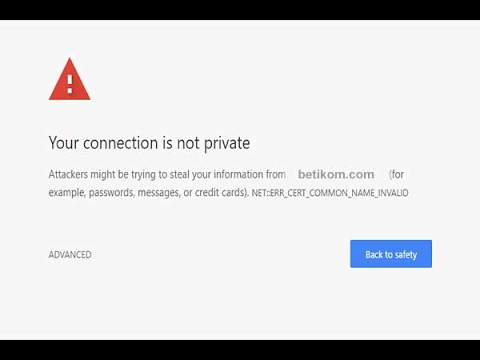 "Your connection is not private" Error and How to resolve it?
Are your visitors complaining about the "your connection is not private" error? Well, this is serious as it can drive away all your visitors, giving an impression that your website is the best place for hackers.
Besides, constant repulsion of customers and its security would signal search engines of the potential threat to its users. The result is a lower ranking. This isn't a scenario that you had been investing time on your website, right?
So, how does this error occurs, and how can you remove it? That would be our focus in this article.
What does this error mean?
Your visitors get this error when their browser gets into contact with your website and finds you are not using any security measures to protect the user's information. For the users, such a message from the browser is taken seriously, and they often return without wanting to take any risks.
A browser checks every website for the security certificate, which is also known as SSL Certificate. If you aren't using it on your website, this is where your users will see the "connection is not private" message.
How to know beforehand if your website will face this issue?
If you haven't installed an SSL Certificate on your browser, most search engines will reflect this error to the users. If the term SSL gets a bit technical, then check if your website has "HTTPS" or "HTTPS" in your web address.
"HTTPS" in your web address shows you have your SSL certificate. In some hosting packages, your SSL certificate comes along, so you might have it before even knowing it. But if your website address has "HTTP", you should install this certificate and remove the error.
Pro Tip: Don't forget to check with your hosting provider for an SSL certificate before buying one.
How to solve it from the user end?
If there is no issue with your SSL, then sometimes minor glitches from the user end could be the reason for this error.
Here are some tips that you can share with your users whenever such an issue arises:
Reload the page
Open the web page in Incognito Mode or Private Mode
Ensure your date and time are accurate concerning your time zone.
Clear cache and try again.
Public Wi-Fi might also create this problem; you should visit again when using the private network
Anti-virus installed in your system could be giving a false warning.
Also Check: How to create a WordPress XML sitemap
LEAVE A COMMENT