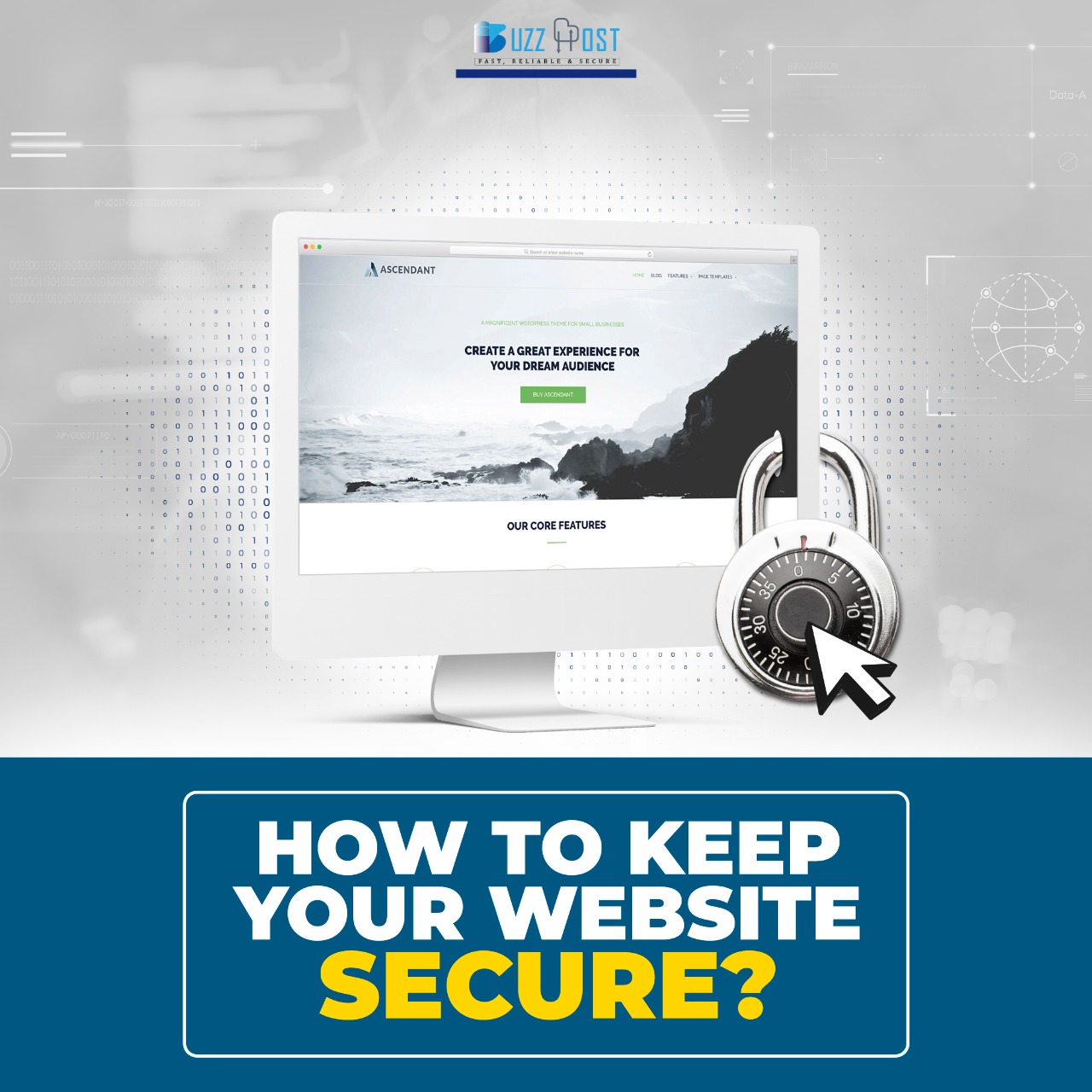 How To Keep Your Website Secure?
It is important to display your services online to meet new business challenges. For a smooth online experience and to protect your website from hackers, you need a reliable and secure hosting infrastructure. Due to big trends in online business, business websites are on target point of hackers.
According to Beta news;
"Cybercriminals can penetrate 93% of company networks."
To overcome hacker attacks, it's time to avail of the hosting services from a reliable web hosting company in Pakistan to fuel and strengthen your website from an external attackers. Now you may wonder, what could happen if your website is hacked or you may face a malicious attack?
This article will explain how to keep the website secure from hackers' attacks or Cybercriminals. As you dive into this blog post, you'll solve your website security queries step by step.
According to the dark reading report;
'In 2021 approximately 50% business suffered due to Cyberattack Attempts per Week.'
You may lose your reputation, customers' trust, lack of website security, and your business will get fined. As a site host, it's a question that comes to your mind, how can you avoid or reduce the chances of falling victim to a data breach?
Tips To Secure Your Website
However, there is no fool-proof way to secure 100% of your website, but you can minimize the chances of being hacked using effective strategies. In the next section of a blog post, we'll share 9 of them.
1: Choose A Reliable Hosting Provider
Your hosting services are like the heartbeat of your website. Your website runs on a server, and there are chances it can get hacked by Cybercriminals. Unfortunately, you can't control the server. But you can safeguard your website from hacker attacks by choosing the best web hosting company.
Reputable, world-class hosting providers don't compromise on security. So instead of going to opt for an unprofessional hosting provider who does not have a strong and reliable hosting infrastructure, choose one that meets your hosting needs and that at least has a good reputation in the market.
2: Google Doesn't Block Domain Name
Google doesn't show blacklists domain on its search results. When you try to access it via Google Chrome, it shows a warning message. As a result, you'll lose most of your website traffic. That's why, before buying a new domain, make sure Google does not block it.
To ensure your domain isn't blocked, visit ismywebsitepenalized.com and type your domain name or even the domain you're looking to buy. Here's a list of key points you should avoid to protect it from being blocked in the future:
Don't use black hat SEO practices, link buying, and spamming
Not taking immediate action to rid malware from your website
Don't display plagiarized content on your website
By following all of the 3 points mentioned above, you'll secure your website from being banned by Google.
3: Install A Security Service/Firewall
Your web hosting provider protects your website. They are responsible for keeping your website safe as building owners, but you're in charge of locking your door. It would help if you took protective measures to safeguard your website—starting with installing a high-quality security service. There are multiple advantages like;
It'll scan your website for malware and other malicious code and save it from being hacked.
It creates a backup copy, so you can safely restore your data
It repairs your website if your site faces cyber-attack
In the next section of this blog post, we are sharing a few examples of security services that you may be considered for your website security, such as;
1: Word Fence
It's An amazing security tool for those who are looking to protect their WordPress website
2: Protection Power
It proactively monitors your website for vulnerabilities and alerts your website may face.
3: One Hour Site Fix
Specialize in malware removal
4: Update Your CMS
If you use WordPress to run your website, you need to protect its login page and make it secure from cybercriminals.
You can install the WPS Hide Login plugin to change
This plugin is lightweight, easy to use, and free.
You should also change your default login username because anyone can easily guess that it is 'admin.' Go to Account Settings in your WordPress dashboard and change your username.
And last but not least, check your WordPress password. If you do not find it strong, change it immediately. To do so, visit https://lastpass.com/howsecure.php and enter your password. If your password is not secure, change it from Account Settings in your WordPress dashboard.
Note: The above-mentioned instructions are mainly suitable for WordPress, but they can be applied to other CMS.
5: Deploy 2-Factor Authentication
If you give multiple users access to your website, there are great chances hackers can target all of them. You can add Two-Factor Authentication to your website to safeguard it from hacker attacks. Using it will require a password and a short code, and they will have to enter this in addition to their password.
If hackers get the password, they still won't be able to access your website because they'll require an additional 2FA code. So now you get its utility and authenticity to secure your website from unwanted sources.
1: Via cPanel Or Your Hosting Provider
Today, most hosting providers offer cPanel to their customers to manage their servers, so you can log in to your cPanel account and enable 2FA. If you don't have an idea, you can contact your hosting provider for support.
2: Via Plugins and Extensions
Suppose you use WordPress, Drupal, or Joomla! You can install an easy-to-use extension than doing it via cPanel.
6: Install An SSL Certificate
Your website is like two-way traffic where information is exchanged between you and your site's visitors. If you are running an eCommerce store, your user provides their email address, home address, credit card details, and much more to get your services.
In exchange, you give them a tracking number for their package. If your website is secure, hackers—can steal information from both the website and customers without access to your website's backend. So, to protect your website and users' information, you can deploy an SSL certificate.
Before buying it first, check if you've already got one. Open your website and look for a green padlock icon. You've already got an SSL certificate if you see this and 'HTTPS:////' before your website URL.
If you can't see a green padlock and only 'HTTP://' before your website, you can contact your hosting provider for an SSL certificate, who may even install it on your behalf.
7: Use Themes, Plugins, & Services From Reputable Sources
Approximately more than 1 million malware threats hackers released. According to CNN;
'Hackers relied on old computer bugs that companies just haven't fixed yet.'
It means old themes, services, or plugins on your website haven't been updated since 2016, and they'll provide an easy way for hackers to access your website. So, make sure every software, theme, and plugin attached to your website is updated to the latest version. In addition, remove software that hasn't been updated in a long time.
Always prefer to use services, themes, and plugins from reputable developers. If you find out a bit more expensive, the price doesn't matter if you want to secure your website.
8: Regularly Back Up Your Website
Too many digital nooks can give cybercriminals a way into your website.
Even after employing advanced security measures, you should still need a regular backup of your site, and its content doesn't get lost forever.
There are three basic ways you can get regular backup:
1: Use A plugin/extension
If you're using a CMS, you'll find an easy plugin and extensions to store your website in the cloud.
2: Via Your Hosting Provider
Many hosting providers offer regular backup services in their hosting plans to a secure server.
3: Using A 3rd Party Service
If you'd use an independent backup service for your site's data, you can use Drop My Site. This service will automatically back up your website after regular intervals and can restore data in one click.
By getting a regular backup of your website's data, its data doesn't fall out of your hands.
9: Update Your Core CMS
Ensure you're using an up-to-date version of your CMS because the latest versions usually include new security patches and bug fixes. It's a great way to stay up to date about the new version of your CMS to secure your website.
Above mentioned 9 tips will make your website more secure than before. In the never-ending battle to protect your website from cybercriminals, you can get hosting services from Pakistan's best web hosting company. If you want to learn more about the latest bugs, hacks, and security developments, stay tuned with us to resolve your queries!
Also Check: Why Business Hosting are Important
LEAVE A COMMENT