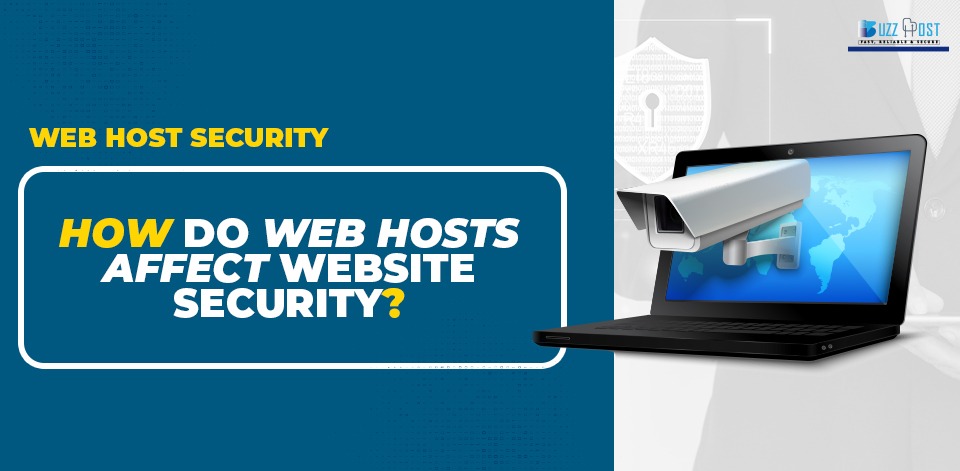 How do your Web Hosts Affect Website Security?
When you launch your website, you naturally demand fast, secure, and affordable hosting infrastructure to host your site. As a newbie, you may prefer to buy Shared Web hosting at the initial stage. Do you know? - your web host affects your website security if you don't bother quality and reliability of your hosting provider.
Before selecting your hosting, the provider does consider various factors;
What is these web hosts' role once your website is up and running?
Are they fulfilling their hosting claims? Are they meet your hosting needs?
Do their hosting plan pocket-friendly?
Is your web hosting service provider responsible for your website security?
Do they offer a 99.99% uptime guarantee with 24/7 support?
In today's blog post, we'll cover all of the above queries and guide you on how you can make a wise decision to choose a reliable web hosting provider who'll meet your hosting needs. So, let's move with us to get details;
Table of Content
The role of web hosting company
Is the web host responsible for malware?
How Does Web Host Affect Your Website Security?
Conclusion
When you host your website, you have to cover several other factors and web hosting services. It's too easy to point out hosting companies in the context of website security. Still, in reality, several other factors cause security incidents that originate from security gaps, such as vulnerable plugins and themes on your website.
When selecting your web hosts, it is essential to ensure your potential hosting company meets your hosting needs in terms of security, hosting features, and performance.
The role of web hosting company
Your web hosting company officially manages your website's overall hosting infrastructure. Web hosting companies offer hosting services by including hosting features that vary on hosting types and plans you choose for your website hosting.
For example, If you buy a shared web hosting plan in Pakistan, you share server resources with hundreds of other websites hots. In shared hosting, your web host is responsible for any issues that may arise while hosting a shared account.
Although your web host is responsible for looking after server issues, your website security, and infrastructure, any problems due to vulnerabilities in your website are your responsibility. The primary responsibility of your web host is to provide you secure hosting environment. They use various tools and software like the cPanel, Apache, or MySQL to meet your security needs.
Is the web host responsible for malware?
It's a fact that approximately 95% of web hacks originate from websites themselves due to weak security features, and the chances directly come through the vulnerabilities in your website.
Vulnerabilities are lacunas in plugins, themes, and software, which enable an unauthorized person to get access. No software is bulletproof, not even Google's code as well. That's why there is a possible threat to receive threats from cybercriminals.
Even though cPanel is not provided complete vulnerability. To prevent the chances of hackers attacking web hosts do their best to take precautions to save their customers from inconvenience.
How Does Web Host Affect Your Website Security?
When you launch your website, you may find several hosting types for the website. One of them is shared web hosting services. Shared hosting plans are the top priority of bloggers, personal website hosts, and low-traffic websites hosts due to their affordable price and easy-to-use hosting infrastructure.
You may find another hosting option – dedicated server hosting. It is highly suitable for large business organizations and websites that need complete control of their hosting infrastructure.
Both these hosting plans have their pros and cons and can affect your website security in the following ways such as;
Firewall protection
The firewall of a website is a primary security measure to protect your website from cyber-attacks. However, managed hosting providers often make a network-level firewall to protect their customers from expected threats. These network firewalls are security measures that filter requests coming to your website, so unauthorized access to your website. But if you have to invest more, you need a strong firewall in your shared hosting plan.
Malware scanning
Most web hosting companies offer malware scanning facilitation on managed hosting plans. Malware scanning efficiency and accuracy differ from one web host to another.
Not all hosting providers are capable of identifying complex malware in your website. So, you need to invest in a security solution that will provide overall security for your website.
Access to core files
Some web hosts lock your WordPress core so an unauthorized person can't fiddle with your website. However, you cannot make any changes to your website. So, to avoid any inconvenience, you will have to get in touch with your service provider.
Backup options
Backups are a hail Mary for website security. Regular backups from your service provider allow you to resolve your data issues.
Now you know entirely how web hosting services affect website security. While choosing your services provider, keep all the facts mentioned above and precautionary measures to keep hackers away from your website. The answers to the questions discussed above will help you choose the best web hosting in Lahore that offers security and support for your business at affordable prices.
LEAVE A COMMENT