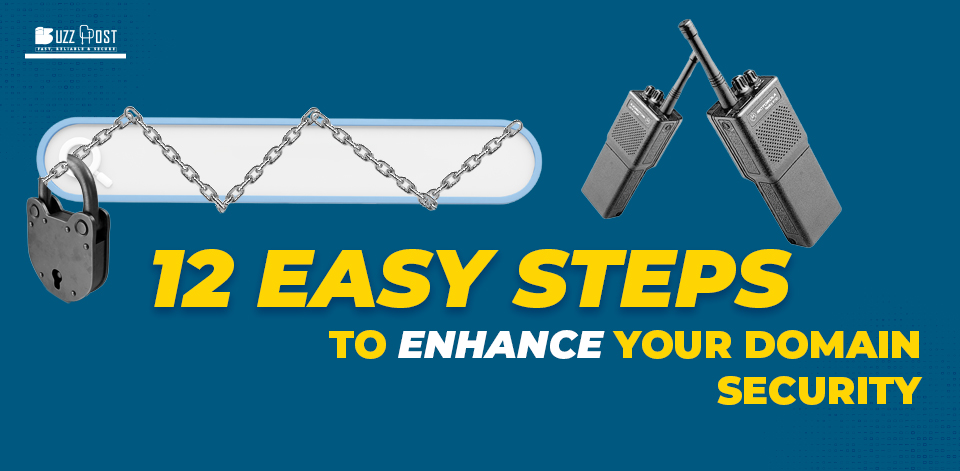 12 Easy Steps To Enhance Your Domain Security
A domain name is your online digital address. It gives identity to your business. If you want to uplift your digital business, you need to understand the importance of your domain security.
As we know, buying a .pk domain name is such a daunting task for the site hosts. To establish your web identity, you need to be in a secure hosting environment. Today we'll come back with the most debatable topic; why does domain security play an important role in online business?
Domain security is an application to secure your domain. It is a security token for authentication. The user has been authenticated with a valid user ID and password with this security token.
Domain Authority is also a ranking factor in Google. It is a website metric that ranges from 0 to 100 and applies to all websites. Due to massive interest in online, an everyday number of people come and join the online business. Thus, there are great chances of getting your domain stolen. To avoid possible options, it's better to add a protection layer to secure your domain name rather than feeling oops!

Content Table
• Introduction
• Why is Domain security important?
• 12 Easy Steps To Secure Your Domain
• Conclusion

Why Domain Security Is Important?
If you want to rank higher on search engines to establish your brand identity, domain security is your priority. You can get domain authority by protecting it from any virtual threats. Unsecured domain names are easy to target for hackers to hijack your domain and get access to confidential information.
In today's blog post, Buzz host will introduce some easy methods to secure your domain security. So, let's dive into the next section to get a brief idea;

12 Easy Steps To Secure Your Domain

1: Register Domain With Your Account
When you buy your domain, make sure to register it to your name to become the sole owner of your environment. Once you register it with your actual name, you will get legal ownership of the domain. Once you amend to maintain all the domain records, your trusted employees can be listed as administrative staff with the rightful authority.
Being an owner, you can also list technical contacts who will be addressing all the technical issues related to a domain name. You can share access with your trusted employees without providing the actual access!

2: Register From Reliable Hosting Dealer
When you start your online journey with a free hosting service and buy a domain from them, there are great chances your domain will be theft. In free web hosting, your website is the target point of hackers. To avoid such worse circumstances, we recommend registering your domain from a professional and reliable hosting company, like Buzz host.
We are offering pk domain registration at an affordable price. So, if you want to build your brand identity, contact our sales team to register your required domain name!

3: Strong Password
In online business, site hosts always have a threat from cybercriminals. To protect your domain from cybercriminals, you have to set a strong password. You can use a password manager to secure your domain extension.

4: Update Your Password
Weak passwords are easy to decode. To avoid an awful situation, it is good to update your passwords regularly with alphanumeric characters. It'll help to prevent the possible loss of your confidential data.

5: Manage Your Domain
Make sure to manage your domain by yourself. If you give access to any third party to take your domain's responsibilities, then make sure you retain the access back to continue domain-related services in the future.

6: Manage Your Website
Before giving access to modify and upload your website content, think. Be very careful to assign management tasks to your employees. Limited access according to the employee's needs helps you maintain control over your website.

7: Activate Two-Factor Authentication
There is a significant threat for a website host; hackers may enter their account even though it is protected with a strong password. To save yourself by using two-factor authentication. It'll add a security layer to your domain. Once you have activated two-factor authentication, it becomes easy for you to keep track of your account.

8: Data Loss Prevention
Your administrator should provide data loss prevention on priority bases. To provide complete security, they need to identify the sensitive documents and stop unnecessarily further sharing. You can secure your sensitive data or documents in soft-copy format by using special tools designed for this specific purpose.

9: Email Address Protection
Being a domain owner, you'll be taking precautionary measures to safeguard your email address, especially since that is linked to your account if it gets leaked to some unknown who could easily retain the information from all valuable accounts. Thus, email protection is a crucial facet of domain security to avoid such a situation.

10: Manage Mobile Devices
We live in an era where the world is on our palms. Mobile phones cover the gap between personal and work data. You can secure your domain by using the Mobile Device Management application to protect your data from any loss.

11: Be alert About Phishing Attempts
It becomes challenging for domain owners to watch their accounts the time closely. By using specific engaging methods, you can gain access to all your accounts by adding a username and password while clicking on a link.

12: Detect Last Login
You can use such applications to alert you about suspicious activity on your account—It will help detect when and from which device your account has been accessed.
Domain security is crucial, hope our recommended security solution will help enhance your domain security. When you buy pk domain registration, keep the login details and domain documents in a safe place to avoid cyber-attacks.
To get the latest updates about web and domain hosting, stay tuned to the category of our hosting blog. If you have any questions or suggestions, please feel free to drop your comment below.

LEAVE A COMMENT