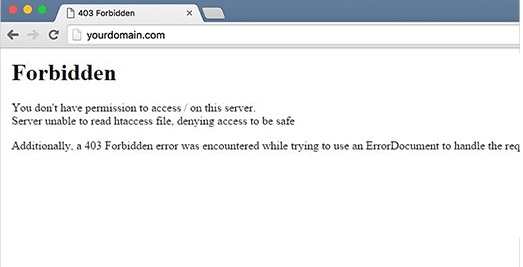 What is 403 Forbidden Error? (Complete Solution)
Getting 403 forbidden error is common, but if you have encountered it for the first time or aren't aware of the technical details, you might feel that you have done something wrong.
But as we mentioned, it is fixable and would only need some minor tweaks on your end.
We'll take this guide for beginners and share every minor step to help you fix this error and tell you everything about it that can clarify your perception.
What is a 403 forbidden error?
This error on a website is part of HTTPS status and shows that the website address you want to reach is not accessible or is forbidden.
What causes the 403 forbidden error?
This error indicates the permission issues, so you must know that you have made some mistake in the development stage, which isn't permitting you to move further.
Also Check: Web Hosting in Pakistan
Reasons for this error:
Typically, there are two main types of these mistakes, initiating this error. These include:
Wrong settings of the .htaccess file
Inaccurate permission of the file and folder
How to solve these issues:
With an understanding of what is causing the issue, let's move towards its solution.
Fixing .htaccess file error:
If you are using WordPress, finding the file won't be difficult. You can locate it in the File Manager section of your c-panel.
Here are the simple steps to follow:
Access your Control Panel and locate File Manager
In the "public_html directory" folder, you'll see the required file.
If it isn't there, then you might have to go to settings and enable the "Show Hidden File" command, and you'll find it right there.
When you have found the file, you need to download it to your system for backup and delete it from the File Manager.
Once done, access your website. If it is working fine, then the error was in your .htaccess file, and you have the solution.
But you'll need a new .htaccess file. For that click on the settings from your WordPress dashboard, go to Permalink, and click on "save changes" without making any change.
You can check your .htaccess file is back.
Inaccurate permission of the file and folder:
If the first method has not solved your error, you should check for files and folder permission. Usually, the default settings are automatically attributed to a file, but sometimes it could be the cause, and you might need to make minor changes.
Here is the step-by-step procedure of what you need to do.
Open the Control Panel of your website and access the FTP Folder.
Select the main folder in your root directory (usually saved as public_html).
You'll see a pop-up list, select File Attributes from this file.
A dialogue box will appear. You need to apply changes to the "directories" only and enter 755 as the Numeric value.
Click ok.
Reopen this dialogue box by repeating step 3. This time you need to apply changes to "files" and enter the numeric value of 644. Click ok.
Now you should be able to access your website.
If it still has not worked, then you need to disable each plugin on your dashboard one by one and see if it was a faulty or outdated plugin causing the issue.
With these steps, you'll probably find the solution to the 403 forbidden error, but if you are still getting it, it is time to contact your hosting service provider.
Also Check: Your connection is not private error
LEAVE A COMMENT