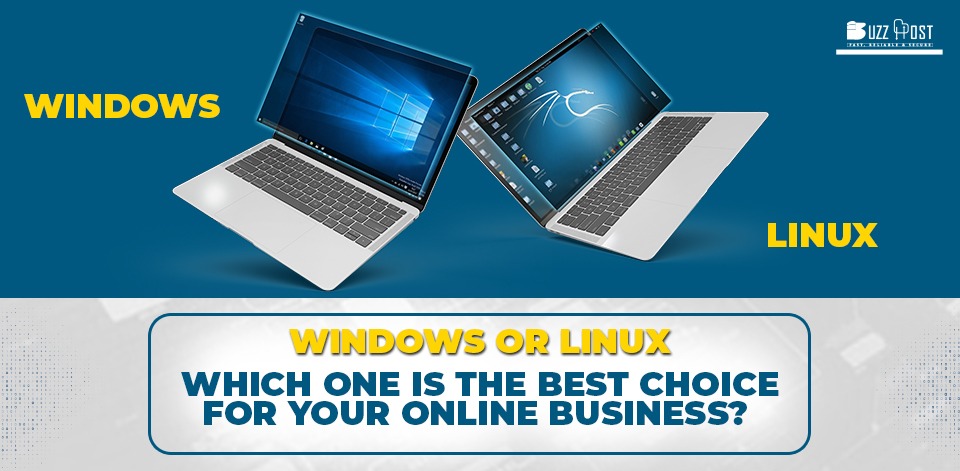 Windows Or Linux: Which One Is your next Choice?
To start your online business, you want to get web hosting services to display your services. When you are going to opt for hosting services, you have two major platforms to choose from, Linex and Windows servers. these two hosting platforms are used to host websites but their usability, functionalities support, and hosting features differ from others.
If we compare both of these options, windows hosting companies in Pakistan are flourishing among website hosts due to their easy-to-use hosting infrastructure and usability. Choosing the right hosting platform is crucial for long-term online success. In today's blog post, we'll discuss the function, features, usability, advantages, and disadvantages of Linux and Windows hosting platforms. Our detailed guidelines help you to make a wise decision. So, let's move;
Table of Contents
Main features of Windows and Linux
Advantages and disadvantages of Windows
Advantages and disadvantages of Linux
Conclusion
Windows operating system
Windows is the most widely-used operating system all over the world. Its current version windows11 launched in October 2021 but its previous versions like Windows 7 have plenty of users. You are experiencing more applications than in Linux. It has immense business-related software which makes it easy for its users to use it.
It is widely used in new PC hardware. Microsoft continues to work on improving its user's usability in the context of, hardware, and software to make Windows more accessible and easier for its users.
Main features of the Windows operating system
Windows servers are easy to use and simple
The Control Panel helps you configure and manage the resources
To implement, the operation of Windows servers uses GUI, where you can organize applications, folders, and documents.
It has a device manager which allows users to see which hardware is installed, view and update hardware drivers, and uninstall hardware.
It has a disk cleanup utility that helps you to increase free disk space by removing temporary or unnecessary files.
Its event viewer tool displays errors and important events that happen on your computer to configure the hosting system.
In the context of gaming and entertainment windows server has a wide profession to uplift its user's mood
Linux operating system
Linux is different from Windows operating system. It is popular among its users because it is easy of customizing and offers a variety of options for those who understand how to use it. If you know how to customize and work with operating systems, Linux is an ideal choice for you.
It comes with GUI with important software that is commonly used. It is used in mobile devices, desktop computers, digital devices, gaming, video recorders, cameras, and much more. Linux operating system has dynamic power, which helps control challenging business applications, network administrations, and database management.
Main features of the Linux operating system
Linux server has the efficiency to support multi-users
It is well equipped to control multiple tasks on a single point
It offers 3 layers of security framework method of authorization, Encryption, and Authentication
It'll offer better user community support with advanced implementation and versions
Advantages of the Windows operating system
There are multiple perks of windows hosting servers that increase their proficiency and usability. Here in this section of a blog post, we'll discover one by one, let's start;
More stability & proficiency
You'll discover general stability and server core are greater in windows servers. Its installation is too sample as compared to other server platforms which increase its usability among its user.
Reduce militance
Windows server infused with fewer binaries in the server core as compere to full installations, so you require minimum time or effort to maintain it. Only fewer security updates need to be implemented to the installations of the server core.
Easy management
There are only a few things to need to control and handle in the installations of server core. You need simple support to configure server core installations. Windows servers have focused on security, stability, networking for maintenance, and improvement of the file system.
For smooth and easy-to-use hosting infrastructure most site hosts prefer to use windows hosting in Pakistan. To upgrade your business online it is necessary to make a wise decision about server selection. In this blog post, we'll try to configure out features and specifications of the best windows server hosting for your online business presence.
Windows Hosting Company Pakistan is proficiently due to its easy-to-use functions, installations, support, features, and specifications as well. Windows server is the best option for non-technical persons.
I hope all of the above information will be fruitful for you to make the right server selection. If you have any queries or confusion related to servers do mention them in the comment box, our experts love to assist you.
LEAVE A COMMENT